Budapest Airport
Budapest Liszt Ferenc International Airport (BUD), formerly known as Budapest Ferihegy International Airport, is about 160 km from Szeged. Many major European and North American airlines fly to Budapest. Currently Delta Airlines offers non-stop service from North America, between New York (JFK) and Budapest.
Budapest Airport has two main terminals: 1 and 2. Terminal 1 serves all low-cost carriers. Terminal 2 is further divided into 2A and 2B. 2A serves flights to/from Schengen countries and 2B serves all non-Schengen destinations, such as the U.S.
For more information on flights see: http://www.bud.hu/english
---
Information desks at the airport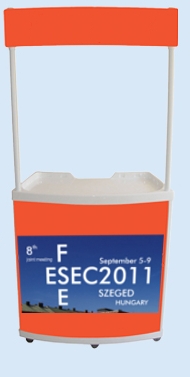 We welcome conference participants with an information desk at the airport on the main arrival days (Sept 3,4 and 5) to help finding the pre-booked transfers, buy train tickets and get assistance. Info desks will be set up at both terminals (Terminal 1 and Terminal 2/A).
---
Transport from the airport to Szeged
Thank you for registering for our transfers. The actual timetable is sent to all who applied for the transfer. If you are a new registrant and need a transfer please mail directly congress@congresstravel.hu.
How to apply
If you wish to choose travelling with our transfer buses, please send an e-mail containing your selected travel dates and times to congress@congresstravel.hu no later than Aug 20. Please type Transfer request in the subject line.
---
View Larger Map
---
By Train
Szeged is located in the South East of Hungary, 164 kilometers from Budapest. Travelling by train from Budapest to Szeged takes approximately two hours and 20 minutes.
Passengers can easily reach Szeged from Budapest Airport Terminal 1. The trains run every hour and 13 minutes on a daily basis. Arriving travellers can buy their tickets at Tourinform at Terminal 1 from 08.00 to 22.00 or at platform B at the railway station from the ticket vending machine (except InterCity seat reservation tickets.)
The two platforms of the railway station are connected to the Airport Terminal 1 with a pedestrian footbridge equipped with lifts above the clearway. A short pedestrian path of just 200 meters takes the passengers from the terminal to the railway station. When travelling to Szeged, make sure you take the train in the direction of Cegléd.
Travellers who would like to get to Terminal 2A or 2B can travel by bus 200E from there.
For a detailed guide please refer to our description below.
You can find the train schedule at the website of the Hungarian railway company.
---
Other possibilities
Coming from the East Train Station:
Take Metro #2 (red line) to Deák Square and change for Metro #3 (blue line) to the West Station. (This ride takes 30 minutes). From the West Train Station trains to Szeged leave every hour and 53 minutes.
You can find the train schedule at the website of the Hungarian railway company.
Travelling by car:
Coming from Budapest, Szeged can be reached on the M5 motorway (about two hours from Budapest). From Romania, visitors have to take the 43/E68 road, and from Serbia the E75 road.
Public transport in Szeged:
Szeged is an easily walkable city, however buses, trolley buses, and trams are all available means of transportation. Bus tickets can be purchased almost anywhere in town, in kiosks, in shops, and even on busses.
---
Travelling from Budapest Liszt Ferenc Airport (Ferihegy) to Szeged by train:
Please note that the railway station is connected only to Terminal 1, so if you arrive at Terminal 2, first you have to go to Terminal 1 in order to catch a train to Szeged.
Our colleagues at the information desks of ESEC/FSE 2011 at Terminal 1 or Terminal 2A on 3, 4, 5 September will be glad to help all arriving participants.

We kindly ask all participants to call any of the above phone numbers, only in cases of emergency.

1) From Terminal 2 take the Bus 200E towards "Kőbánya-Kispest". You can buy bus tickets from the driver (400 HUF) or from a vending machine (320 HUF) in front of the Airport building. You need to have some Hungarian currency because you can pay only in HUF. More information can be found on the web page of the Budapest local transportation company: http://www.bkv.hu.

2) If you have pre-purchased train tickets then get off at "Ferihegy railway station" and get through the overpass in the direction of "CEGLÉD". Otherwise, go one stop further to Terminal 1, where you can buy your train tickets. The distance between the terminals is about 10 kms, roughly 10 minutes of travelling.

3) Go inside Terminal 1 and buy your railway ticket at the Tourinform desk right next to the entrance. You are advised to ask for an Inter City ticket with seat reservation to Szeged. A 1st class single ticket costs 4210 HUF, a 2nd class single ticket is 3440 HUF.

The ticket office is open from 8:00 AM to 10:00 PM. Time tables, prices and other information can be found on the web page of the train transportation company: http://www.mav-start.hu.

4) Leave Terminal 1 and follow the pedestrian path towards the railway station.

5) The two platforms of the railway station are connected to Terminal 1 with a pedestrian footbridge equipped with lifts above the clearway. Climb the stairs or take the lift and walk along the overpass towards the platform. Make sure you choose the right platform towards the direction of "CEGLÉD"! Please note that "Szeged" is not always indicated on the information boards at the railway station.

6) Make sure you get on the right train! Trains to Szeged stop at every hour and 13 minutes.

7) Check your seat ticket, find your seat and enjoy the journey which takes about 2 hours. Szeged is the last stop, so once on the train you do not need to worry about where to get off.

8) The surroundings of the railway station in Szeged is currently under reconstruction, so you might encounter some inconveniences around the building.

9) Due to the construction works, the best way to get to your Hotel is taking a taxi. You are advised to choose a "Radio Taxi" and tell the driver that you are a participant at the ESEC/FSE 2011 Conference. If no "Radio Taxi" is available around the station, please call +36 62 480 480 and ask for a cab as an ESEC/FSE 2011 participant.